Connecticut Department of Transportation News Release
4/29/2020
The Connecticut Department of Transportation is announcing the scheduled upcoming closure of the I-84 westbound Exit 40 on-ramp at Ridgewood Road in West Hartford for a period of approximately five months. The ramp will be closed on May 11, 2020, and reopened on or before October 5, 2020. The closure and detour are necessary to facilitate construction and safety improvements to the I-84 westbound bridge over Ridgewood Road.
Detour Information (follow posted detour signs):
Ridgewood Road South to New Britain Avenue
Right on New Britain Avenue
Follow New Britain Avenue to Route 9
Right on Route 9 North on-ramp
Merge onto Route 9 North
Use left lane to I-84 Westbound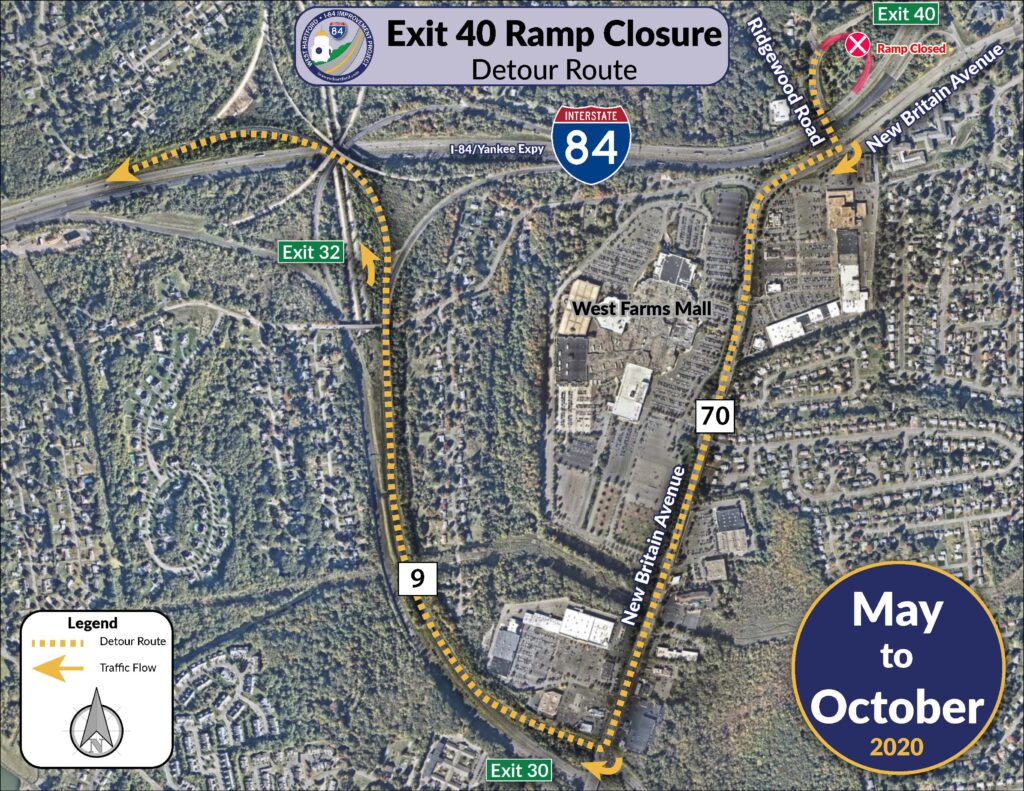 Project 0155-0171 is a $54 million roadway improvement project being constructed by O&G Industries, Inc. The project began on March 2, 2020, and is anticipated to be completed in the summer of 2023.

FOR FURTHER INFORMATION:
OFFICE OF COMMUNICATIONS
TELEPHONE: (860) 594-3062
FAX: (860) 594-3065
WEB SITE: www.ct.gov/dot
2800 Berlin Turnpike P.O. Box 317546, Newington CT, 06131-7546